Been awhile. How've you been?  I think of you often. 🙂
Katherine Tilton has done a lovely guest post on Marcy Tilton's website about making linen sheets. This is so serendipitous for me because I had just finished a linen flat sheet for our bed a few days ago, and am planning to make the fitted sheet this week.  Katherine has really laid it out so clearly what to do – I'm definitely gonna follow her guidance.  But…I have a wee problem. Ok it's not a big problem or even a real problem; it's a 1st world problem like……
One of my lifelong pet peeves has to do with putting the fitted sheet on the bed. It's not my favorite chore, I have short little T-Rex arms which makes it more challenging for me than for other people who live with me. Countless times I thought I had the sheet oriented properly to the mattress and I have gotten 2 corners on the mattress, only to find that, NOPE! I don't have it oriented properly and have to start over. This frustrates me too much!  I overreact to this….and it's silly. Really, it's such a small thing – why let it upset me so?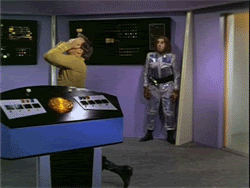 So I've been thinking about what to do and a solution came to me IN A DREAM. I kid you not.  It's simple, it takes longer to write it out than to show it and here it is:
I will put ribbon tags in 2 colors in the corner seams near the hem and they'll show a little bit on the right side.  I'll be using lavender and grey ribbon b/c those are what I have on hand.  Here's my lousy diagram A:
And so here's how the colors will be placed (lousy diagram B):
So if I'm putting on the sheet facing either long side, I'll know that the sheet is properly oriented if I have 2 corners with tabs of the same color. If I'm facing a short side – top or bottom, it doesn't matter – if I have corners with tabs of different colors, the sheet will be properly oriented.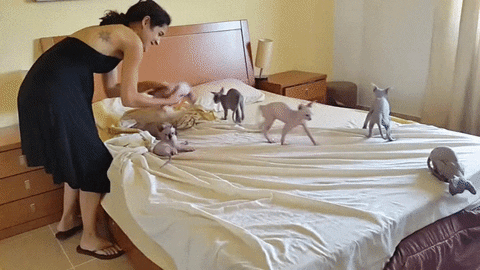 -/-
These tabs will take me maybe 15 minutes of sewing time to do, but they'll save me so much frustration……I may do this with all my sheets. 🙂
-/-
So by this time next week, I'll be sleeping on my fitted linen sheet and under my linen flat sheet for about 20% of the cost. Don't EVEN get me started on the pillowcase neurosis……..!
If you're a glutton for punishment, enjoy silly animated GIFs and you'd like to know the whole nine yards about this linen sheet thing (and yes it has really been a THING for me), read on for the backstory. (more…)