Been awhile. How've you been?  I think of you often. 🙂
Katherine Tilton has done a lovely guest post on Marcy Tilton's website about making linen sheets. This is so serendipitous for me because I had just finished a linen flat sheet for our bed a few days ago, and am planning to make the fitted sheet this week.  Katherine has really laid it out so clearly what to do – I'm definitely gonna follow her guidance.  But…I have a wee problem. Ok it's not a big problem or even a real problem; it's a 1st world problem like……
One of my lifelong pet peeves has to do with putting the fitted sheet on the bed. It's not my favorite chore, I have short little T-Rex arms which makes it more challenging for me than for other people who live with me. Countless times I thought I had the sheet oriented properly to the mattress and I have gotten 2 corners on the mattress, only to find that, NOPE! I don't have it oriented properly and have to start over. This frustrates me too much!  I overreact to this….and it's silly. Really, it's such a small thing – why let it upset me so?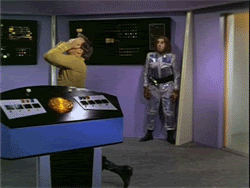 So I've been thinking about what to do and a solution came to me IN A DREAM. I kid you not.  It's simple, it takes longer to write it out than to show it and here it is:
I will put ribbon tags in 2 colors in the corner seams near the hem and they'll show a little bit on the right side.  I'll be using lavender and grey ribbon b/c those are what I have on hand.  Here's my lousy diagram A:
And so here's how the colors will be placed (lousy diagram B):
So if I'm putting on the sheet facing either long side, I'll know that the sheet is properly oriented if I have 2 corners with tabs of the same color. If I'm facing a short side – top or bottom, it doesn't matter – if I have corners with tabs of different colors, the sheet will be properly oriented.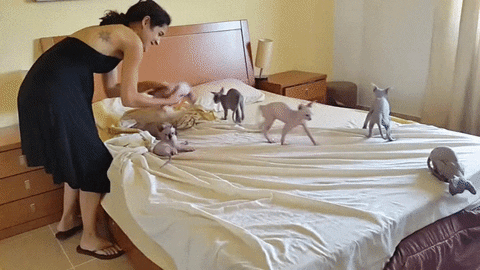 -/-
These tabs will take me maybe 15 minutes of sewing time to do, but they'll save me so much frustration……I may do this with all my sheets. 🙂
-/-
So by this time next week, I'll be sleeping on my fitted linen sheet and under my linen flat sheet for about 20% of the cost. Don't EVEN get me started on the pillowcase neurosis……..!
If you're a glutton for punishment, enjoy silly animated GIFs and you'd like to know the whole nine yards about this linen sheet thing (and yes it has really been a THING for me), read on for the backstory.
---
The Backstory – where I run on endlessly about trivial things
So about a year ago, when like always in summer here it was hot and humid, I became OBSESSED with idea of 100% linen sheets.
I sleep "hot"; almost always I am throwing off the bedcovers – even in winter. Back when I lived in New England in an unheated upstairs bedroom, I would sleep with my feet out from under the covers with no socks. The last 5 years or so, I have had a fan of my own trained upon my face and upper body that runs every night 6 -7 months out of the year. Sometimes I really have trouble finding the cool side of the pillow…and I have 3 pillows.
I started hearing about linen sheets. Celine Dion has linen sheets on her bed always…….even when on tour.   Cool in the summer….warm in the winter….they get softer and smoother with each washing……………..THEY COST HOW MUCH?!?!?!?! Go ahead. Google "linen bed sheets". But be sitting down I think….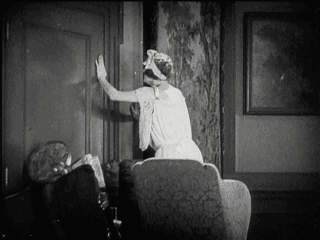 So I did what I usually do: start scheming. How can I make these myself? How can I make it more affordable? I start researching on line who has the best valued linen fabric.  That's different from the lowest-priced b/c you do sometimes get what you pay for.  I calculated my yardage – different amounts would be needed for different fabric widths. Bedsheet width linen is available, but it certainly costs more.  I had to figure out what weight of linen I needed…and I'm too cheap to buy swatches……. I start looking for the online sales……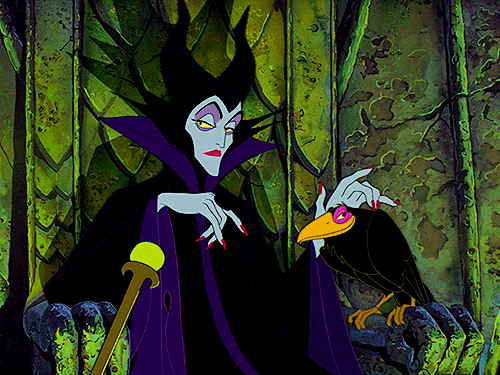 And then – YES!  The stars have aligned!  My fairy godmother has sprinkled me with pixie dust! The right weight at the price I wanted to pay!  I order the yardage and even better – it will arrive at my door when Studmuffin is traveling for work!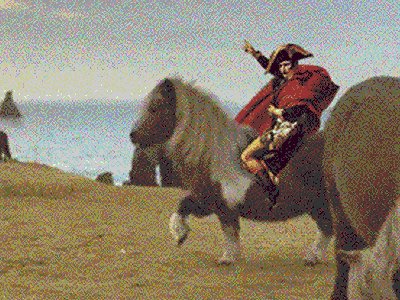 Joy! Rapture! The fateful day arrives and………………………………..it's not the right stuff.  Oh it's what I ordered, but it's like canvas and not ever gonna be soft enough to sleep on or under.  It's true the description online said "a stiff hand"* but I really underestimated that adjective. And it was too heavy in weight.  SO I sent it back, and after grieving over it for a week or two, I start watching the online sales again – a sadder but wiser obsessive.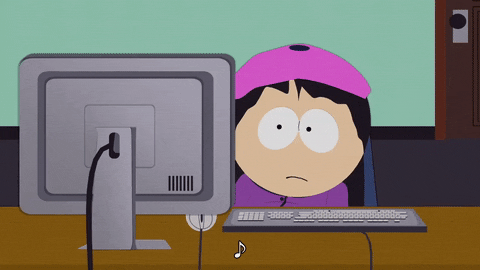 Eventually I found what I wanted at the right price and ordered again and YAY! It was the right stuff.  I serged the cut ends and washed and dried the yardage 4 times to take out the shrinkage and decrease the amount of lint.
SO MUCH LINT!!!! It was hard to believe just how much…….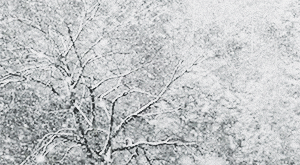 The width of my goods meant that there would have to be a seam down the middle or some other arrangement- for the flat sheet- it was easy – a flat felled seam down the middle.    But then the sheet was too wide and my serger was on the fritz and the thought of all that hemming to do on my regular sewing machine…I got a little overwhelmed, though I did sleep under it one week when Studmuffin was traveling, which was great!.  So I put it away til later……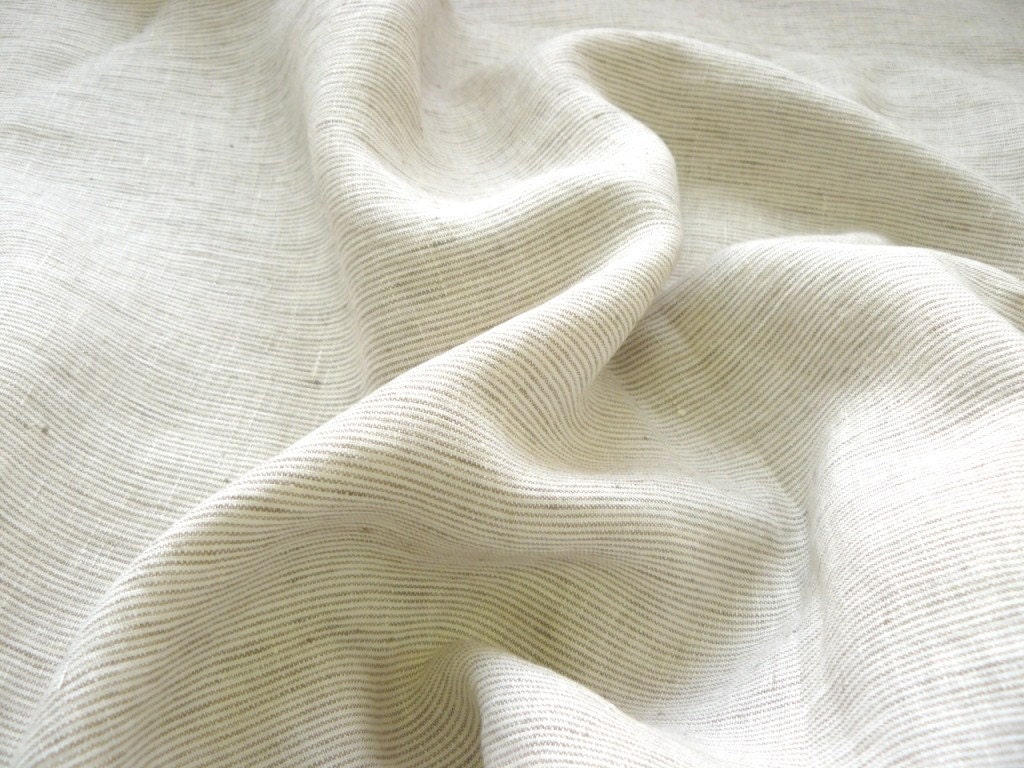 …and almost a year went by. 2 or 3 nights ago I started thinking about finishing the sheet – serger's been fixed for a WHILE now – so I completed the flat felled seam and serged all the edges.  I decided to leave it superwide and not cut it down at all – Studmuffin is forever taking all the sheets and so full size sheets often leave me uncovered thru most nights, which isn't the worst thing certainly, but this flat sheet is much more like a large bedspread size.  I put it on the bed and lo and behold – Studmuffin likes it.
So now I'm wanting to do the fitted sheet……
---
*"hand" in this instance means:
n. The aesthetic feel or tactile quality of something, such as a fabric, textile, or carpeting, that indicates its fineness, texture, and durability.